We are Westminster Presbyterian Church!
Greetings in the name of Jesus Christ who lived and loved and died and was risen.
Thanks for visiting our website! 
Join us this Sunday in person at 470 Roosevelt Avenue or on  Zoom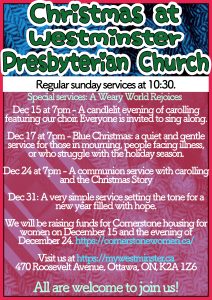 Christmas at Westminster – Full Page Poster
Sunday Worship with Sunday School for kids and youth starts at 10:30 a.m.
Sunday Sermons are available on our YouTube page Westboro's Presbyterian Church
Read the latest blog .
There are many ways to support Westminster, through gifts of time and talent and through your financial support.
If our services sound like they might be useful to someone you know, feel free to forward whatever information you feel appropriate. Part of our call as a comment of faith is to spread the news of the love of Jesus and freedom we have in him to others. Folks need to hear of Him somehow, why not by us!
We gather together on Sunday mornings in devotion and praise of God. Our service has a warm and inviting family feel.