Mission and outreach are key components of the life and worship of Westminster as we encourage one another to grow in relationship with God and to service to others. We help others locally, nationally and internationally.
Locally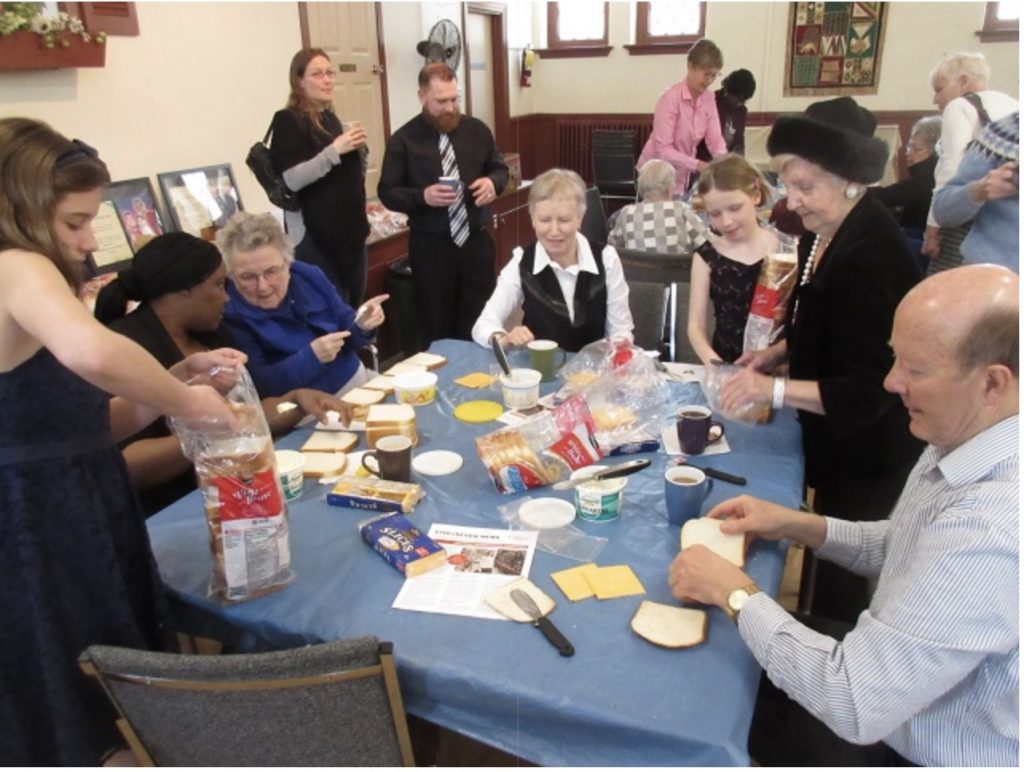 Under the oversight of the Mission Team, we have a dedicated group of volunteers who care deeply for those who are hungry. Our action takes the form of making cheese sandwiches once a month. We invite you to join us! Since 1992, Westminster has made over 8000 loaves of cheese sandwiches for Centre 507. Cheese sandwiches are made every third Sunday after church in the lower hall. People engaged in conversation and friendships deepened. The sandwiches support the Street outreach ministry of Centre 507.
Every Christmas, the Westminster congregation along with the Westboro Village Cooperative Preschool and the Scouts gather toiletries, scarves, hats, coffee, tea, sweets and food for Centre 507.
Westminster collects and donates food to the Westboro Region Food Bank which is an Agency of the Ottawa Food Bank operated by All Saints Anglican and First United churches with the support of many community partners.
Gracefield Christian Camp and Retreat Centre
Westminster visits annually for a day of worship and fellowship. Many members of the congregation support the work of Gracefield financially and volunteering.
Westminster's Canadian Girls in Training (CGIT) Alumnae participate in the annual Honeython that supports the maintenance and upkeep of Camp Kalalla in the Gatineau Hills.
Westminster has raised over $50K over the past 35 years for Camp Kalalla.
Many of Westminster's CGIT members have attended Camp Kalalla and as adults have continued to support the camp.  
Nationally
Presbyterians Sharing is the national church fund that supports the mission and ministries we do together in Canada and around the world.
Westminster's contributions to Presbyterians Sharing support the work of the Presbyterian Church in Canada to works with congregations and presbyteries to support and equip congregations for faithful and vibrant ministry in the world to which Christ came for which he died.
Westminster's Mission team raises additional funds to support the work of this ministry with Indigenous People. 
Internationally
Ministries Around the World
Westminster's contributions to Presbyterians Sharing support the work between the Presbyterian Church in Canada and overseas partner churches and agencies.
PWS&D Maternal and Child Health Program
Westminster's Mission team raises additional funds to support PWS&D's Afghan Girls Education Project that is now under PWS&D's Maternal and Child Health Program.
In 2018, members of the Westminster congregation participated in the "Ride for Refuge" fundraiser that raised almost $1000 dollars for maternal health projects.
Malawi – The Rev. Dr. Blair and Vivian Bertrand
Westminster's contributions to Presbyterians Sharing support our former youth worker, Dr. Blair Bertrand, his wife Vivian and their three children in their three-year assignment to work with the church in Malawi.
In 2015, Westminster began a 27-month journey to sponsor a Syrian Refugee family, called "Welcome New Friends."
On Thursday, March 2, 2017, Westminster welcomed the Abou Ghoush to Canada on a day that was -21 with the wind chill and blowing snow.