lent Calendar
A simple, daily prayer practice for making the 40-day journey through Lent.
Lent Calendar for February 16th – 27th
Lent Calendar for February 28th – March 13th
Lent Calendar for March 14th – March 27th
lenten study
Join us this Lent in reflecting on the role of God as creator, of humans as stewards, and the reality captured by Paul that all creation groans in this one great act of giving birth. Over 6 weeks we will read 4 weekly entries describing the immaculate beauty of God's creatures and the ways they are threatened, we will hold to the wild hope that as long as these creatures exist they may yet flourish. This will be a lenten devotional time like no other. No need to sign up, just show up.
Meetings will be Wednesday @ 7:30pm.  The book is called Wild Hope.
To register for Westminster Zoom events, contact Pastor Chris at clarke@mywestminster.ca .
interactive lent gardens
Enjoy your journey through the Lent Garden each week. Start by clicking on the bible on the park bench. With one click you will open up a collection of daily bible readings, children's bible story readings, prayers, and questions to think about throughout each week. Once you've got these devotions at hand, go ahead and click around the rest of the garden to discover so much more.
Each of the itty bitty library boxes behind the park bench (there may be one or two to click on each week) unlock one or two video recordings of a wonderful bible story read by a church leader for everyone to enjoy. These stories come from the bible story books listed in the weekly devotions. The hanging flower basket will take you on a weekly adventure of garden musings and ideas with Kristine O'Brien, an avid gardener and thoughtful minister. The guitar leaning against the tree sings out a brand new or much loved hymn or song that will connect you to our weekly bible stories and themes. You'll want to sing along with all of these talented musicians. Are you feeling like going for a walk? Click on the wooden door and walk into a world of labyrinth visits, reflections and finger labyrinth opportunities. Is it time to be creative? The garden gnome reveals a simple craft idea that makes use of materials that you likely already have at home.
And when it's time for something to eat, click on the picnic basket for a new recipe or two to try out at home.
Give thanks to Tori Smit who designed the Lent Gardens with input from some other Presbyterian Leaders who offered leadership in music, story telling and recipes.  Tori is the  Regional Minister for Faith Formation for the Synod of Central, Northeastern Ontario and Bermuda.
Maundy Thursday to Easter Sunday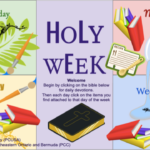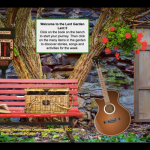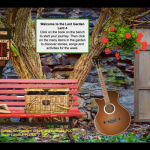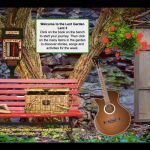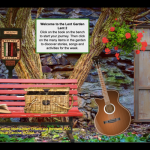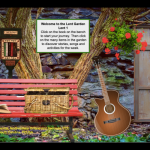 Ash Wednesday, February 17, 2021